Our competences and skills
Epping – your certified partner
The constant improvement of our high-quality standards, occupational safety and environmental performance is essential for Epping's corporate policy. The fulfillment of our clients' high-quality requirements and the responsibility for people and the environment have the highest priority for us. The fact that we meet the highest standards is not only proven by our satisfied clients but also by our numerous certificates.
Hydraulic pipe jacking is an innovative and environmentally friendly method for trenchless laying of reinforced concrete pipes. A wide variety of reinforced concrete pipes, both walkable and non-walkable cross-sections, can be installed to lengths up to 1,500m.
The following jacking procedures are standard practice for our highly motivated and well-trained construction teams:
Pipe-jacking of non-walkable cross-sections using AVN technology
• Pipe-jacking of walkable cross-sections in dimensions from ID1200 to ID3800 using the following techniques:

Full face technology, mix and earth pressure balance (EPB) shields
Partial cutting technique, hood shield

with excavator/roadheader/auger
with/without compressed air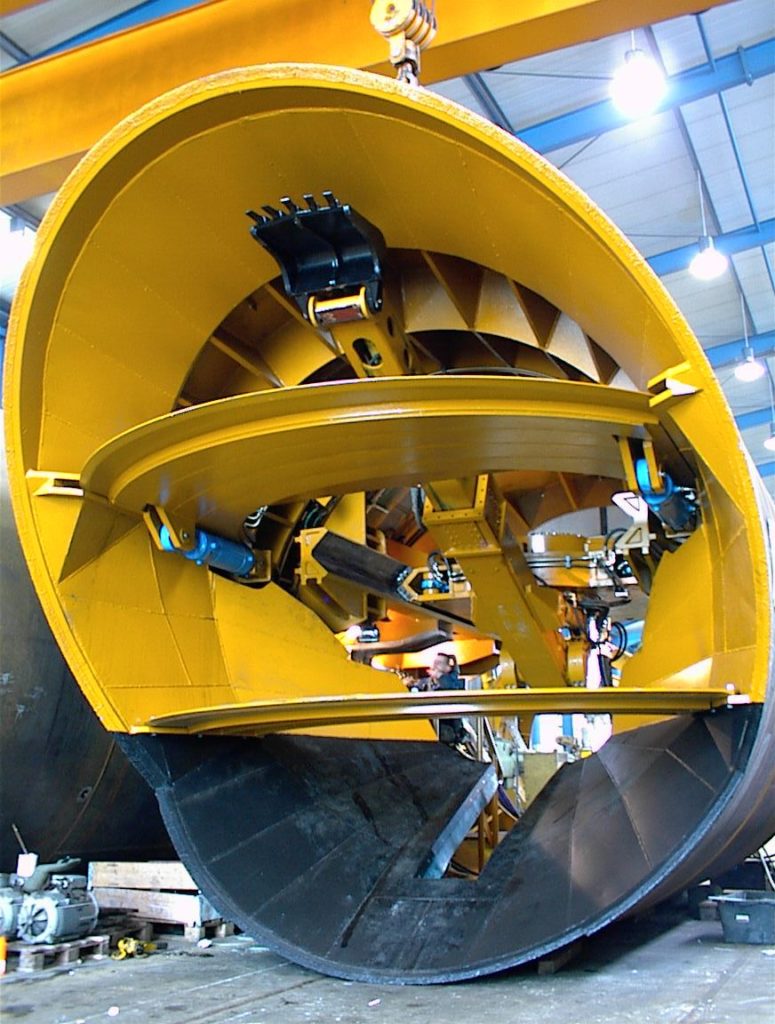 Partial-face tunneling is, in many cases more economical than full-face tunneling. For
decades we have been carrying out pinpointed tunneling work up to an outer diameter of
OD4700 on both straight and curved sections using the partial-face technology and cutting
edge surveying and control technologies. Using this method, any obstacle can be
dismantled and removed without problems in an open and freely accessible working area.
We are also able to detect metallic debris and explosive ordnance using the impulse neutron neutron procedure.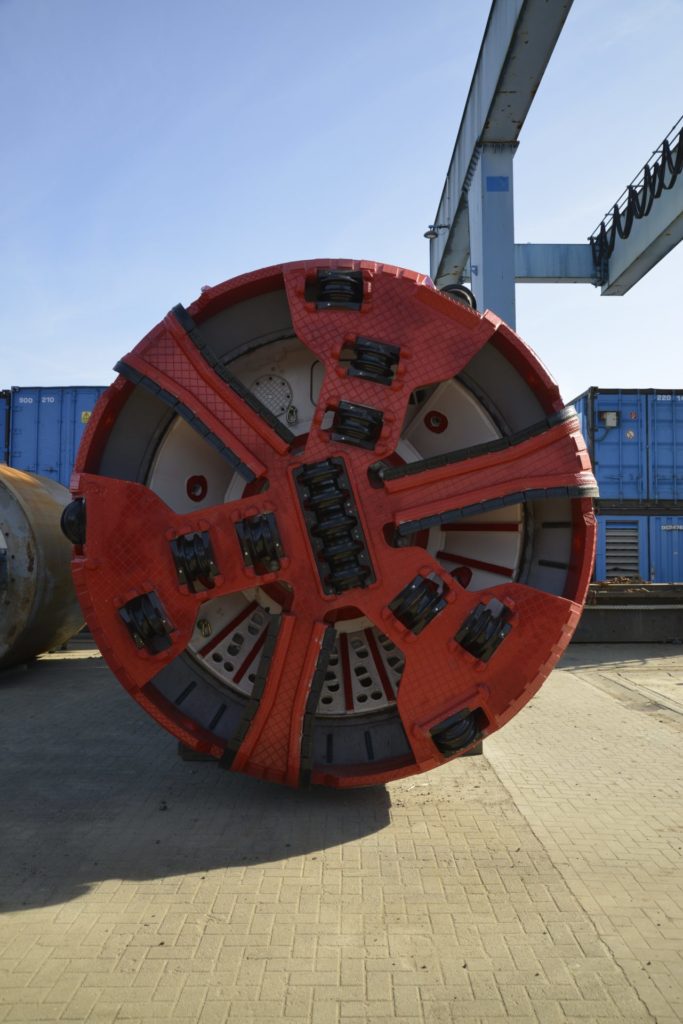 Full-face technique can be used in almost any geology and offers the highest level of tunneling safety due to the hydraulic supported face. It is the optimal solution for environmentally friendly tunneling in groundwater without complex additional measures. We have successfully carried out pinpointed tunneling work using full-face technique up to an outer diameter of OD4400, even with tight radiuses or vertical and horizontal curves.

As an extension of our wide range of technical skills, we also use Horizontal Directional Drilling (HDD) for the precise installation of underground pipelines. The constantly evolving HDD technology enables the trenchless laying of pipes in almost any soil formation and depth.
Leak testing is mandatory for newly built systems according to DIN EN 1610. Leak testing is essential for environmental protection. Tightness is significant when dealing with dirty water, water-polluting substances and in water protection areas.
Our professional staff has decades of experience and extensive knowledge in carrying out leak tests on sewage pipes and sewers. We use two principal types of tests.
Testing with water pressure
Testing with air pressure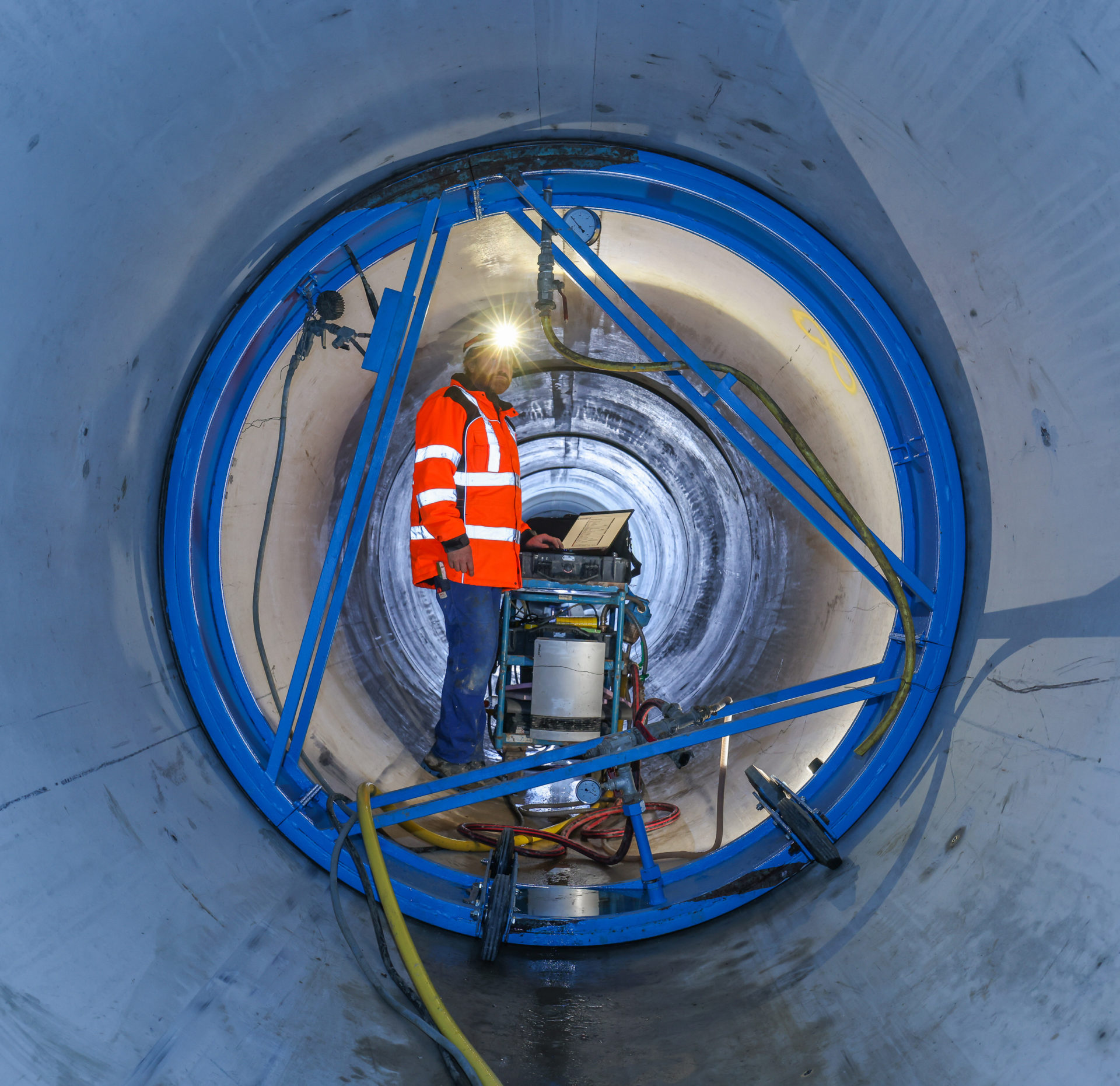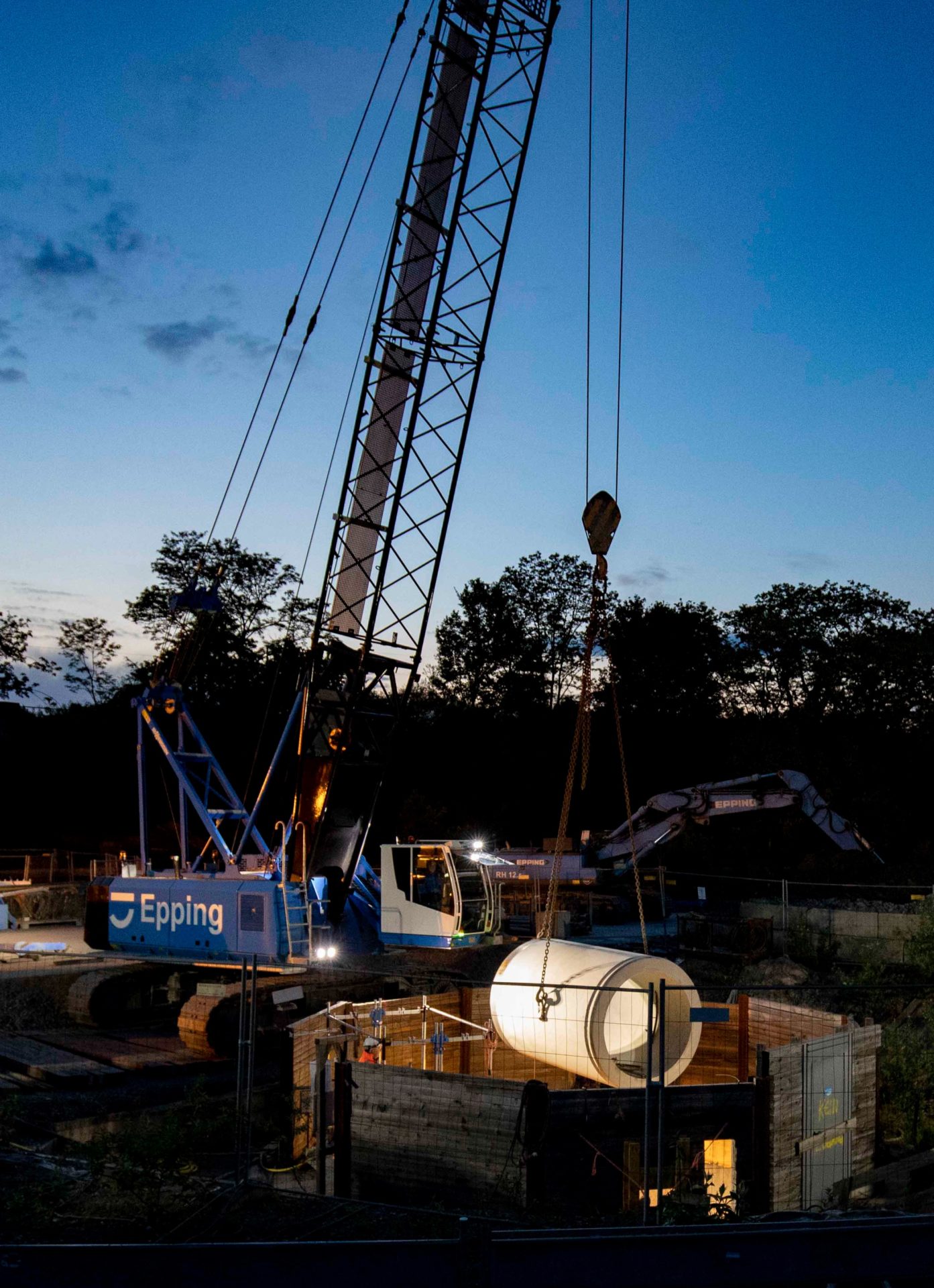 We have extensive know-how in manufacturing, developing and general overhauling of construction and pipe-jacking machines. Our machinery has the most modern appliances for tunneling construction sites in full-face and partial-face technologies. Our technical team develops and implements individual and goal-oriented solutions in close cooperation with our clients. For the optimal realization of pending construction tasks our machine and equipment technology is continuously developed by regularly trained employees with a high level of specialist knowledge. Many years of experience and modern equipment are the foundation for high quality and economic efficiency.
Tunneling systems in full-face technology from Herrenknecht up to ID3800
Separation plants up to 450 m³ / h
Partial-face machines with excavator or roadheader for tunneling up to ID3800 with/without compressed air
Compressed air supplies for compressed air drives with/without a control system up to 30 m³ / min
Mixing and injection machines for lubricating and grouting work
Mobile laboratories for testing of drilling fluids
Hydraulic conveyor systems up to 400 m³ / h
Cable cranes with loads up to 120 tons (Sennebogen, Liebherr, Kobelco)
Gantry cranes with loads up to 55 tons
Mobile and hydraulic crawler excavators up to 36 to class
Mini excavators up to 7.5 tons
Wheel loader up to 20 to class
Shotcrete machines in various power classes
Leak testing systems up to ID3500
Elevators für excavation pits
Power generators up to 500 KVA in single or parallel operation
Air compressors up to 30 m³ / min
Surveying systems SAS 22 consisting of a gyrocompass, electronic hoselevel, and industrial PC for the computer-aided recording of tunneling data (bentonite pressure and consumption, jacking forces interjacking stations expansion and forces, etc.)
Gyrocompass systems TYPE MWDR for surveying during tunneling operation
VMT SLS surveying systems
In our surveying department all matters relevant to surveying are professionally processed. Plausibility checks, feasibility studies, and permanent supervision of each construction site are essential for ensuring high-quality standards. To achieve the high accuracy required by our clients, precise measuring devices are used on construction sites. Our surveying electricians oversee the company's surveying systems. Due to many years of experience using surveying systems in pipe jacking, the high demands of these complex systems can be ensured.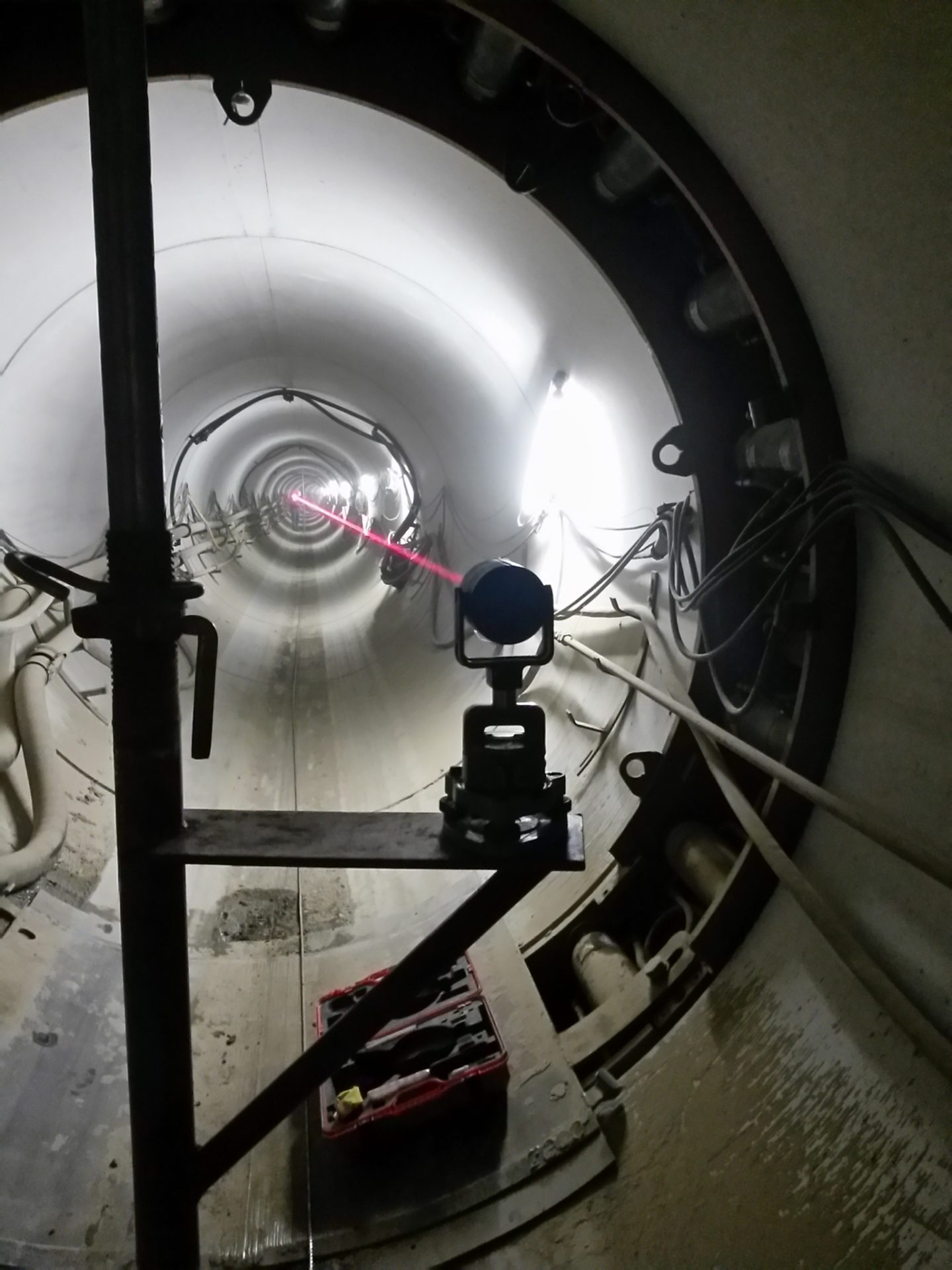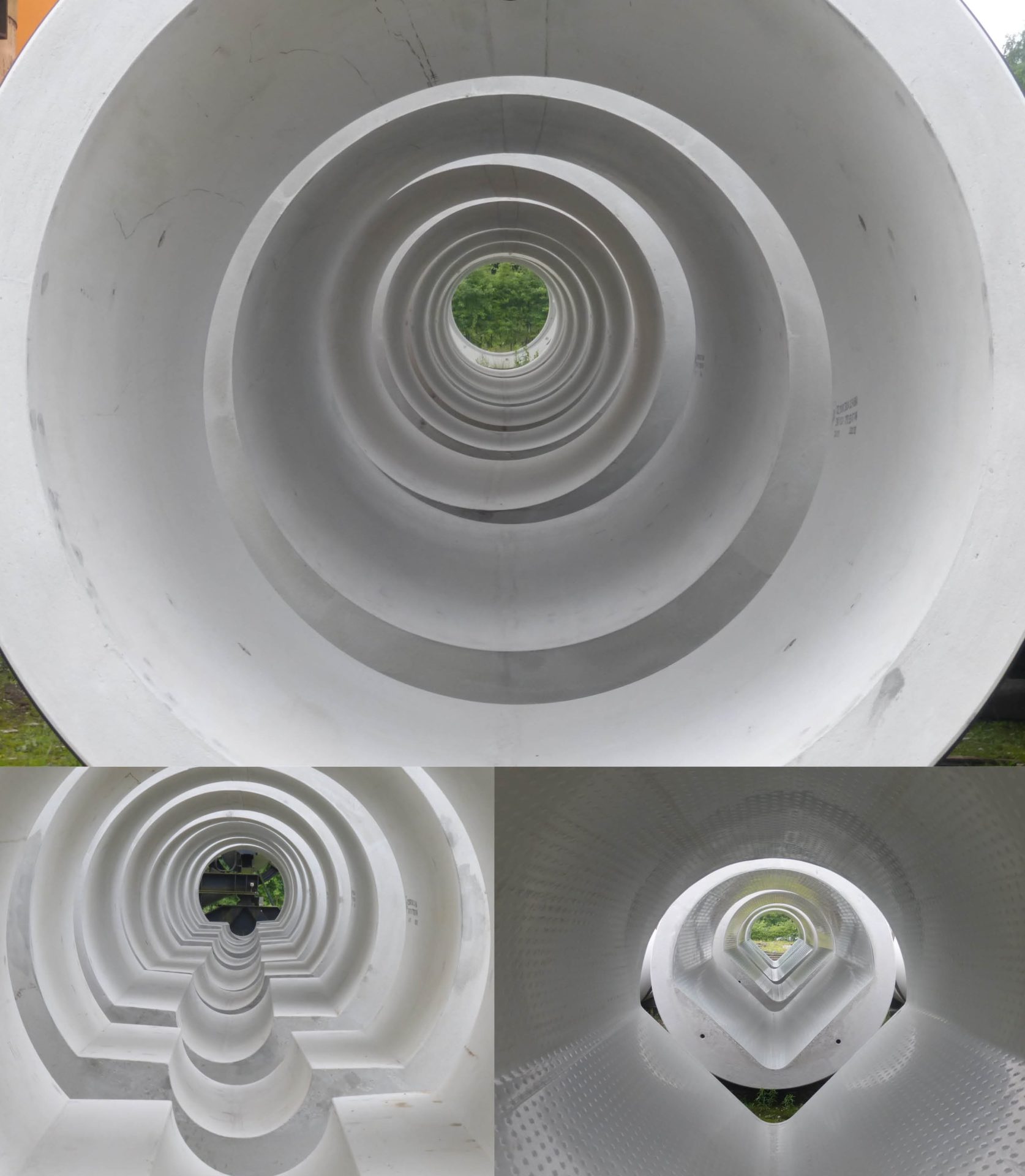 Many years of experience in manufacturing reinforced concrete pipes and using modern pipe production systems ensure a high-quality standard of our products. We have an extensive range of molds and equipment for producing reinforced concrete pipes with internal diameters from ID1200 to ID3800, including special formworks. Our production capacities enable the manufacturing of pipes with individual weights of up to 60 tons and lengths of up to 4.50 m.
Due to our spacious factory hall, it is possible to produce eight different types of pipes at the same time and store up to 4 tubes of each type under solid roofs and covered outside. We have eight concrete stands "in a row" with following premises for after-treatment.
Production of reinforced concrete pipes ( ID1200 to ID3800) for pipe jacking and trenchless solutions and special pipes made of reinforced concrete (lowering shafts, bends, tangential
shafts, main cooling water pipes as pressure pipelines, etc.)
Manufacturing of reinforcement cages using a cage welding machine
Compressing concrete with internal vibrators
Pipes hardened for at least 6 hours in standing formwork
Subsequent treatment by covering standing pipes in the production hall
Adjustable humidity for covered pipes
Quality assurance through internal QM and external building material testing laboratories
Pipe forms ID1200 to ID3800 complete in all popular diameters
Special pipe formwork ID1200 to ID3800 for short and expansion maintenance
hole pipes, etc.
4,600 m² production hall with a 25-ton indoor crane and a hook height of 11.5 m
10-tonne crane for rebar production
Outdoor area (12,000 m²) as a pipe storage with two portal cranes with a load capacity
of 40 and 80 tons